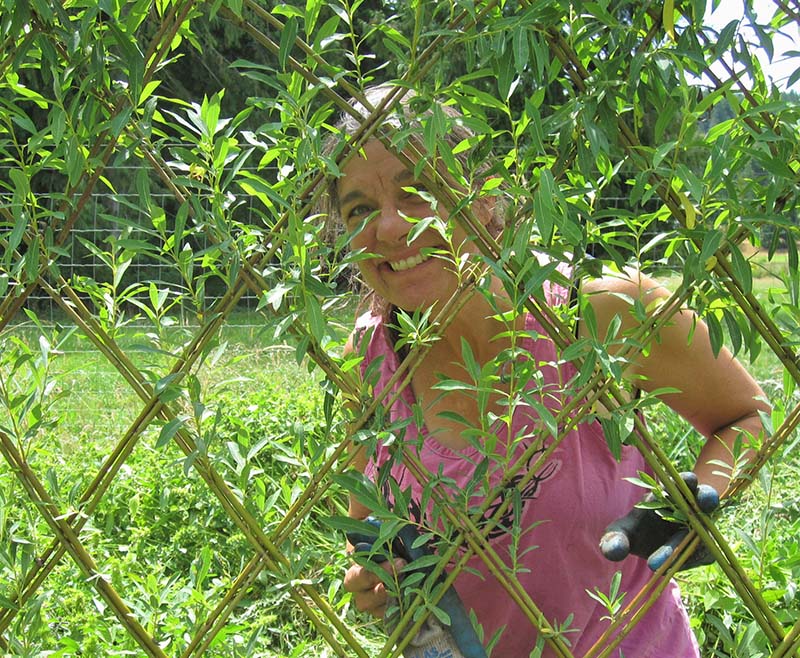 Bio
Joan Carrigan is a full-time basket maker and basketry teacher who has lived on Salt Spring Island, BC for over 25 years. Joan studied Fine Art and Art History at the University of Guelph and attended her first Basketry Conference in Toronto in 1991.
Since then, her passion for this ancient art form has led her to study, travel, and explore many different techniques and materials. Her research into traditional skills inspires her use of plant materials she respectfully harvests from nature, while her background in fine art fuels her enthusiasm for the sculptural and creative potential that the medium offers.
Joan's work has been exhibited nationally and internationally. She has received two Project Grants from the Canada Council of the Arts and she is a recipient of two Handweaver Guild of America Awards.
Joan teaches extensively and finds this to be a very rewarding aspect of her career.
Artist Statement
I was first drawn to the natural beauty and everyday functionality of basketry during travels in the South Pacific. Seeing how plant fibres were used for weaving in Tahiti, New Zealand and Australia, I was inspired to attend a Basketry Conference once back in Toronto. That was in 1991 and I clearly remember the exhilaration of making my first basket. My fascination for basketry has continued to grow and has enriched my life in so many ways.
For thousands of years, all cultures in every geographical location have practiced the craft of basketry. Within this practice a broad range of construction techniques have developed using a virtually endless array of natural and recycled materials. It is this intrinsic diversity which continues to enthrall me.
Foremost it is the use of natural materials which resonates with my love of the natural world. I am fortunate to live on Salt Spring Island, BC where the climate and vegetation offers a bountiful source of material which in turn provides me with endless inspiration and avenues of creative exploration.
Whether it is flat pieces of inner cherry bark or branches of curly willow, each experience with my material feels fresh and new. The material dictates its path to a 3-dimensional form. Working with these materials is a process of discovery and a collaboration. I am interested in blending the unique and random aspects of the natural world, to find the perfect balance between exercising control over the material and allowing its own characteristics and presence to come through in the finished piece.
I am thrilled to be able to share this passion through teaching and exhibiting my work. My hope is to inspire a greater appreciation for baskets as culturally significant objects of art, as well as provoke a desire in others to explore its creative potentials.